How to Start Teaching Your Children About Financial
Responsibility?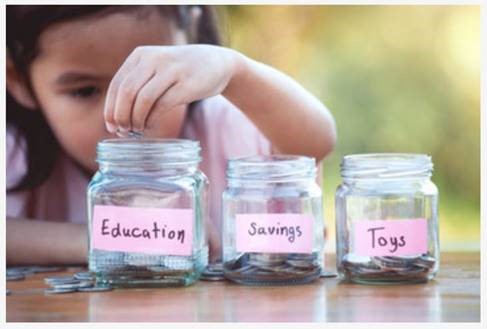 If we want our kids to grow up and be responsible with their money, we as parents need to  start teaching them about financial responsibility when they are young. Below we'll give you  some solid guidance on how to teach your children about financial responsibility at any age. 
First, no matter what age your children are, set the example you want them to follow. No  matter what we want our children to learn, the best way to teach them is to be the example  because they are always looking. If you constantly pay for things when you're out with a credit  card, they'll notice. If you consistently argue about money, they'll notice. And if you set a  healthy example of handling money, they'll take notice and be more likely to follow it when  they get older into adulthood. 
Now that we know that kids, no matter what age, catch our financial habits by our example, we  can look at some ways we can teach them in practical ways. 
When you have pre-schoolers and kindergartners, you can use a clear jar to save money. While  piggy banks are fun, it doesn't allow the kids to see how much they are saving. When you use a  clear jar, you can see the savings grow. Yesterday, they had a quarter. Today, they have a  quarter and 10 dimes! Talk to your kiddos and make a big deal about how their savings are  growing. 
You'll also want to help show them that "things" cost money. When you go shopping, help  them take some money from their jar with them to the store and allow them to physically hand  the money to the cashier.  
Now, when your kids are in elementary and middle school, the lessons change up a bit, they're  able to understand the deeper concepts of financial responsibility. One way to help them, is to  show the cost of opportunities. In other words, help them understand that, if you buy the latest  video game, then you won't have the money to buy the new pair of shoes they've been  wanting. At this age, your kids should be able to weigh decisions and the possible outcomes of  those decisions. 
Instead of giving your kids money in the form of an allowance, give them a commission based  on the chores they do around the house. When your kids do chores like taking out the trash,  cleaning their room, or mowing the grass, your kids will learn that money is earned, not just  given to them. 
Next, help them avoid impulse buys. Kids this age (actually, kids of all ages) will see the perfect  outfit, or the perfect video game and ask to buy it immediately. This age defines what it means  to impulse buy. Instead of giving in, let your child know that they can used their commission  money to pay for it. But if it's over a certain amount, say $20, encourage your child to wait and think about it. It will likely still be there tomorrow and it will give them some time to think if  that's what they really want their money to go towards. 
Lastly for this age group, once they start making a little bit of money, stress how important it is  to give. They can pick a charity, a church, or even someone who needs some help. Eventually,  they'll experience the fact that giving doesn't just help those they give to, but also themselves  as well. 
Now for our teenage kids. After learning the early foundations of financial responsibility, it's  time to take it to the next level. If you've been doing some of what we talked about above  along the way, by the time your child is a teenager, you should be able to help set them up with  a simple bank account. This takes managing money to the next level, and will hopefully prepare  them for managing a bigger account when they get older. 
Once they have a bank account, now's the time to get them active in budgeting their income – no matter how small it is. While they are living under your roof, you should make it a priority to  help them learn the importance of making a plan for their money. 
One of the budgetary items on their list should be helping them save for college. Once they  have a job, help them decide how much of that money will go towards a college savings  account. When they eventually get to college, they'll feel like they have some skin in the game  as they contribute to their own education. 
Once you've helped them make a budget you'll also want to teach them the danger of credit  cards. As soon as kids turn 18, they are hounded by credit card offers – especially in college. If  you haven't taught them why debt is a bad idea, they'll see no harm in getting one, three or five  credit cards. However, it's up to you to determine when is the right time to teach them these  principles. 
Finally, help them learn contentment. Kids spend a large amount of time staring into their  phones and social media. They see the highlight reel of their friends, family and celebrities.  Seeing all of this will quickly push your child into the comparison trap. Contentment starts in  the heart. Let your teen know that the Honda their driving, while it's not the newest car on the  block, still gets them to where they need to go. You can still throw memorable birthday parties  without spending your retirement savings. And the vacations you go on still bring the family  together as a bonding experience. 
Teaching your kids about money at any age is time consuming. It won't always be easy. But if  you want your kids to grow up and be financially responsible adults, taking the time now will  pay off in the future.